OTDR-2100GOF-MU
(Optical Time Domain Reflector spatical high resolution type for a large core fiber)
Home>Products>OTDR>OTDR-2100GOF-MU
OTDR-2100GOF-MU
(Optical Time Domain Reflector spatical high resolution type for a large core fiber)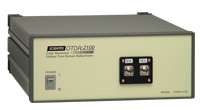 Measure large core fiber
OTDR-2100GOF-MU is prodcted to measure optical fiber(Core diameter is 50〜1000um).

Select two different optical fibers which is different in core diameter.
It is possible to set up for measuring various optical fibers with the option.
Selectable core:
50,62.5,100,200,400,500,600,800,1000um

Catalog(PDF/280KB)
Please check the specifications on the catalog
Feature
Measure two different large core fibers with one unit
High sensitivity by photon counting mode
Various analysis (defect, transmission loss...etc)
Conformable to CE marking (EU safety standard)
Operation is easy by the software of the Windows.
Appliction
Defect inspection of optical fiber
Optical line work-up
Optical fiber sensing
You can watch the demo of OTDR on You Tube!!
*Windows are registered trademark of the United States Microsoft Corporation in the United States and in order countries.
*This insturument is possible to test the performance of optical fiber. We don't guarantee against the performance that if you use this OTDR for other purposes.
---