OTDR-2100POF(Optical Time Domain Reflector spatical high resolution type for plastic optical fiber)
Home>Products>OTDR>OTDR-2100POF
OTDR-2100POF
(Optical Time Domain Reflector spatical high resolution type for plastic optical fiber)
Measure and image the defect of Plastic optical fiber.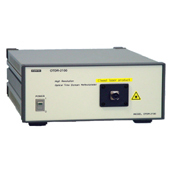 The transmission loss of optical plastic fiber is large and back scatter light against input pulse light become ultra weak light.
Therefore, the back scatter measurement of the plastic optical fiber is difficult in the usual method.
This instrument solves this proplem using a high sensitivity photon counting mode.

Catalog(PDF/511KB) 
Please check the specifications on this catalog
Feature
Spatial resolution : 1cm. Very short dead zone!!
High sensitivity by photon counting mode
Various analysis (defect, transmission loss...etc)
Conformable to CE marking (EU safety standard)
Operation is easy by the software of the Windows.
Application
OTDR of SCIENTEX can be applied to the wide field.
Check of the optical circuit which plastic optical fiber is being used.
Check of the optical circuit inside the building.
Check of the optical circuit for the house.
The connection test of the optical fiber for the car.
We can also provide special OTDR on request.
Fault point can be found by this OTDR.
It can find even a little wrong points that is the defect and transmission loss...etc
You can watch the demo of OTDR on You Tube


Watch the demo
*Windows are registered trademark of the United States Microsoft Corporation in the United States and in order countries.
---